Logs for Sale
The logs can be ordered:
by the cubic metre; we deliver these logs loose with our tipper truck and not in the bags, as we re use the bags to season and store the new logs.
as handy bags that fit into an estate car
Note for new stove customers
Mixed dry soft wood is as good as hardwood in a stove but cheaper as we have not had to buy it, although it takes longer to process into logs as it can be all different shapes and sizes. You will find their will be some small bits in the load but they can be used to support the kindling required to start your fire.
As we sell our firewood by volume (cubic metre) and stoves can control the oxygen which in turn controls the temperature, so this makes mixed softwood more economical as it is cheaper.
The Scandinavians use mainly wood stoves they generally burn Softwood.
Softwood will burn quicker in an open fire as you cannot control the oxygen to the fire. We use only soft wood in our open fire but we use a fire guard and use less logs as it burns hotter so you need less wood.
CUBIC METRE PRICES - for collection or delivery - see panel on this page regarding delivery costs.
We can deliver up to 3 cu.m at a time.
Cubic Metre Part Seasoned Hard Wood - Loosely Stacked
cu. m £105.00
Cubic Metre Stove Wood - Loosely Stacked
cu. m £85.00
HANDY BAGS - for collection only
Handy Bag Mixed Wood – with bag £12.00
Handy Bag Hard Wood – with bag £15.00
Handy Bag Sized Hard Wood – no bag £12.00
Handy Bag Sized Mixed Wood – no bag £9.50
(£1.50 refund per bag on return of undamaged bag)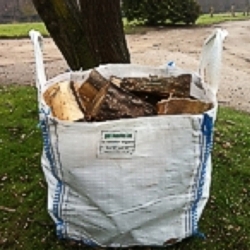 DELIVERY
Free Delivery within 10 miles for orders of £75 and over
Quotes given for further afield for delivery
We will quote for delivery on orders of less than £75
Subject to availability, EVERYTHING is available for cash and carry at the farm; collection available from 8.30am until 1pm and 2pm until 5pm, seven days a week.
Goods will be delivered to where our transport can fit and if further movement of the goods is required then this, at our discretion, will be at an extra charge.
We not only sell logs but we use them as well and we are always available to share our knowledge with anybody thinking of looking to do the same.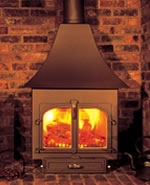 We have four Clearview stoves at Wey Farm helping keep us and our boarding dogs and cats warm.
Recently we also installed an ETA wood gasification wood boiler in our Lower Kennels and Cattery block. This has allowed us to remove 3 gas combo boilers, one that heated our administration building, one in the cattery and one that heated both the kennel blocks.
This has greatly reduced our carbon foot print and our gas bill !!!
Wood as a fuel: a guide to choosing & drying logs:
dowload the guide here